Mag. Dr. Verena Radlingmayr

Business Park Gleisdorf Süd 6/45

8200 Gleisdorf
Partner of the Family Pass of all Austrian 'Bundesländer' (federal states) and the Styrian Family Pass Two&More, standard discount 10% on all courses, further discounts if indicated.
Please make sure that the general conditions for appointments are met: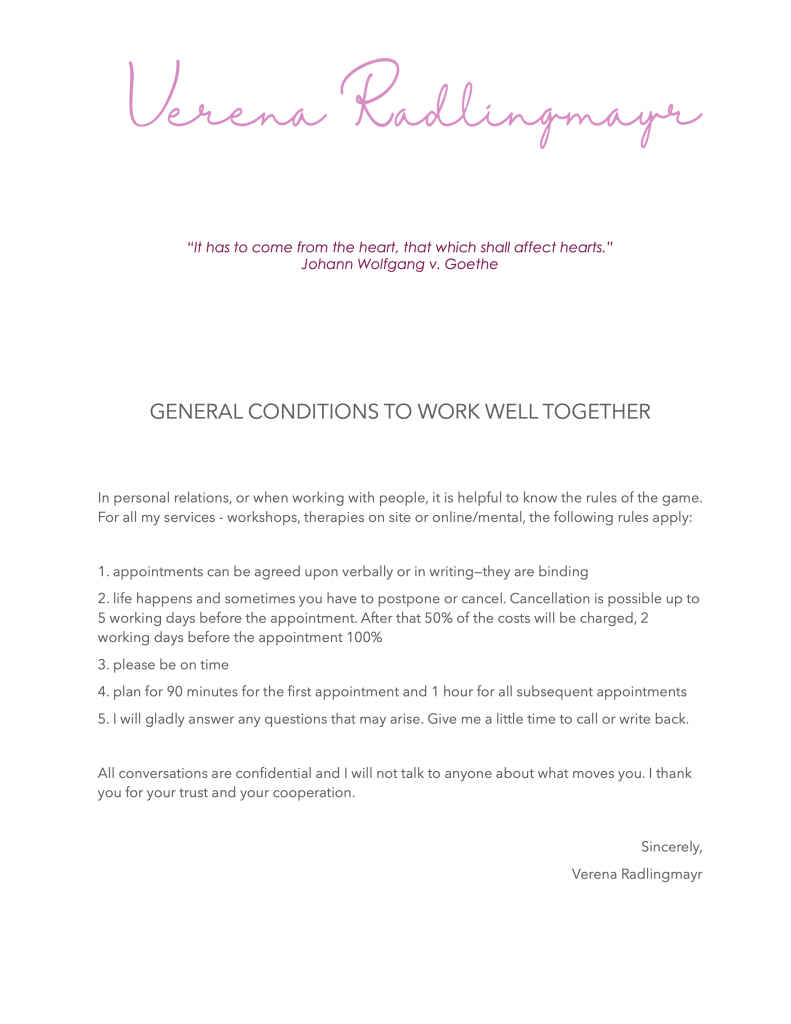 Austrian Bank Account:
Steiermärkische Sparkasse AT85 2081 500042352104
VAT number:
ATU74003945
Website:
www.verenaradlingmayr.com
Business purpose:
Management consultancy and Personal service providers see Current Information (WKO, chamber of commerce)
The IMEDIS method falls into the so-called "holistic area". The EU has introduced the term "wellness" for this purpose. All statements are meant in this context, and in no way do they refer to diagnoses and therapies in the orthodox medical sense.
Whenever the IMEDIS method refers to information preparations and substances, this refers to energetic, complementary medicine preparations in the sense of § 1 para. 3 Z 9 of the German Medicines Act, which are not drugs and do not fall under the Food Safety and Consumer Protection Act (LMSVG, BGBl I No. 13/2006).
These energetic information preparations and substances are stored in the IMEDIS systems in the form of electronic equivalents ("digital oscillation copies").
Application of the IMEDIS method and IMEDIS systems in human energetics cannot replace medical diagnosis and treatment!